A truck allows the aborigines to receive dialysis treatment away from the big cities in their home environment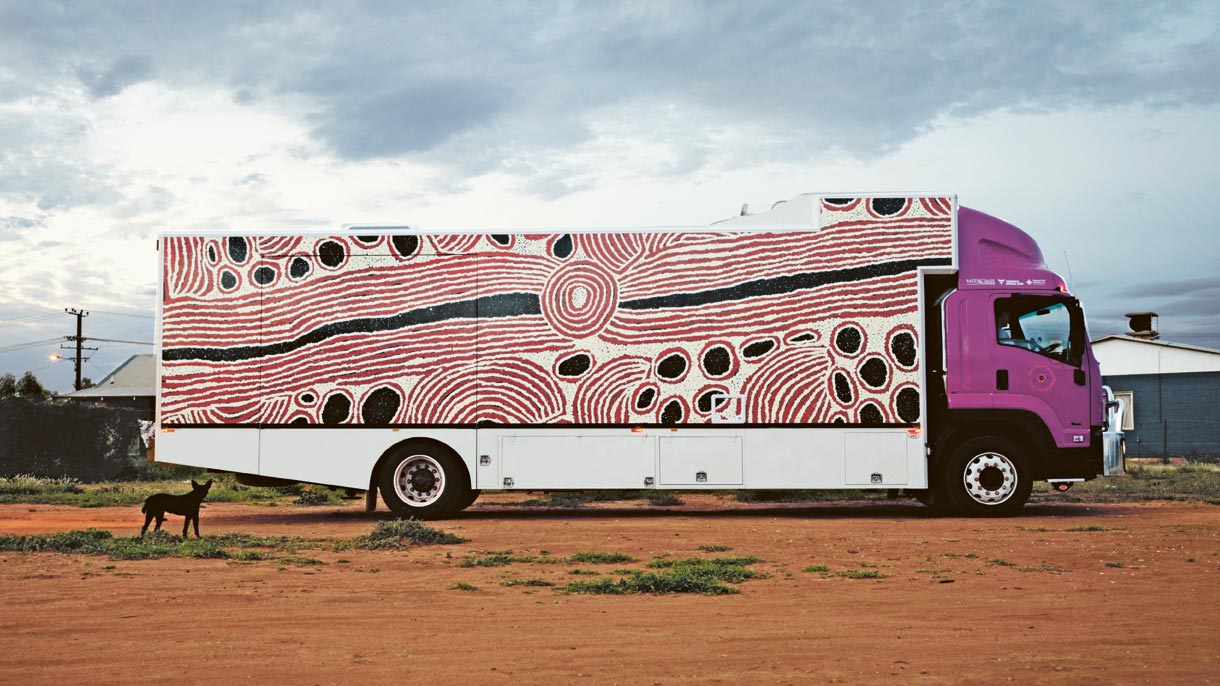 It is a sad day in the desert. When really, there should be cause for celebration: Jedda Marshall has finally come back to Papunya after a long time away. But an oppressive calm has fallen upon the community in the Australian outback. The 300 or so people who live here have withdrawn into their houses. Jedda Marshall glances up at the clouds and says nothing. A member of her family has died. Today he will be buried, and the entire community is in mourning. But at least she can be here on this important day. And this is a major step forward.
It has been a while since Jedda Marshall lived in Papunya. She is one of many Australian aborigines whose lives are impaired by kidney damage. That is why she has had to live where the dialysis machines are: in Alice Springs, 240 kilometers from Papunya. The only major city in the center of Australia is known as a gateway for visitors to Mount Uluru, formerly called Ayers Rock. There are hotels, restaurants, shops, an airport and a railway station for tourists. But aborigines such as Jedda Marshall, who have been torn from their communities, find it extremely hard to find social support and a home in Alice Springs.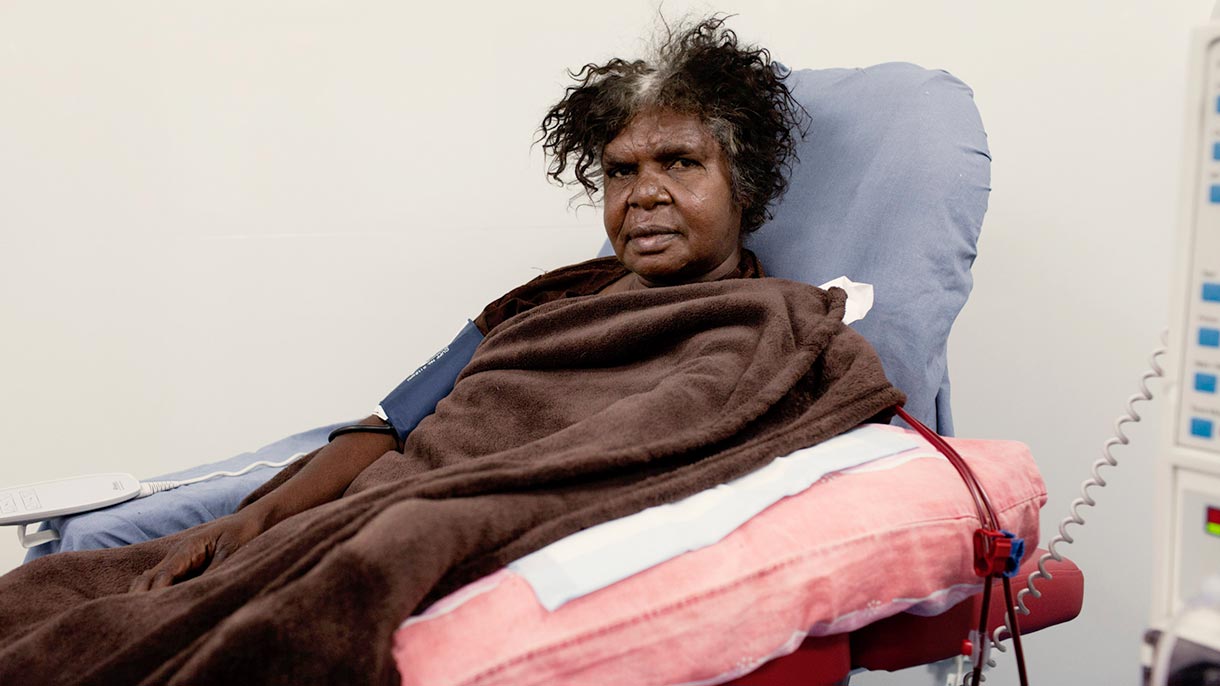 At home again
Today, Jedda Marshall is back in the place where she was born, went to school, gave birth to seven children and worked in a shop before becoming ill. She owes this to the Purple Truck which has brought her home to Papunya. The Purple Truck is on its maiden trip with a complete dialysis station on board and Jedda Marshall is the first person to try out the new service. Putting the truck on the road was a joint effort by a number of organizations, including Fresenius Medical Care, which provided the equipment and helps to carry out dialysis treatments.
The Purple Truck is much more than a medical facility on wheels. "Having to leave their home country puts a terrible strain on the patients and their families," says nurse Deb Lillis, who accompanies Jedda Marshall. The truck is of great social importance, as it allows the aborigines to receive dialysis treatment away from the big cities in their home environment.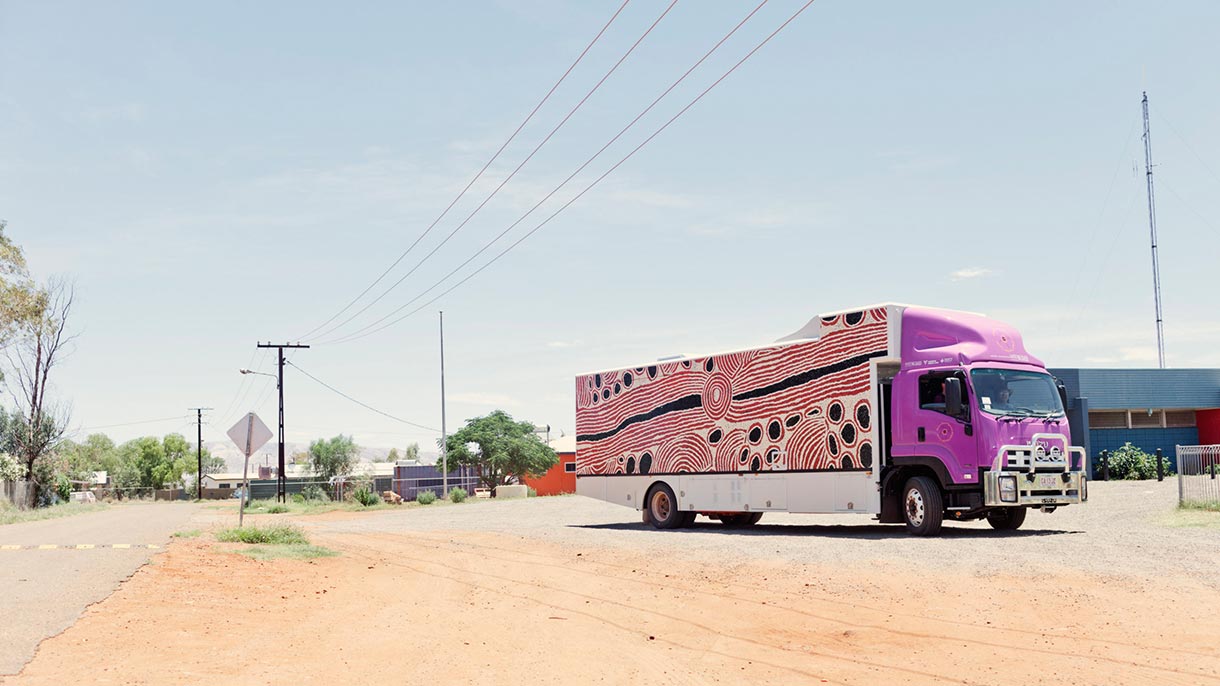 The social dimension
In the 1990s, the aboriginal community in central Australia started to feel the consequences of an increase in kidney disease for the first time. The rising number of new cases now meant it was no longer just an individual problem. It had long taken on a social dimension, weakening the small communities in the outback and the cultural tradition of the aborigines.

"Important members of the community live permanently in remote cities and don't have the opportunity to return to their country and participate in community life," says Sarah Brown, manager of the truck and driving force behind the mobile dialysis facility. Oral tradition is a crucial part of aborigines' culture: Traditional knowledge, manifested in song, is passed on from the old to the young. "As it is mainly the older members who are affected," says Sarah Brown, "the community's entire pool of knowledge is jeopardized."

I used to live in a hostel and am now staying with another family, but I really don't know what will happen after that.
Jedda Marshall
Dialysis patient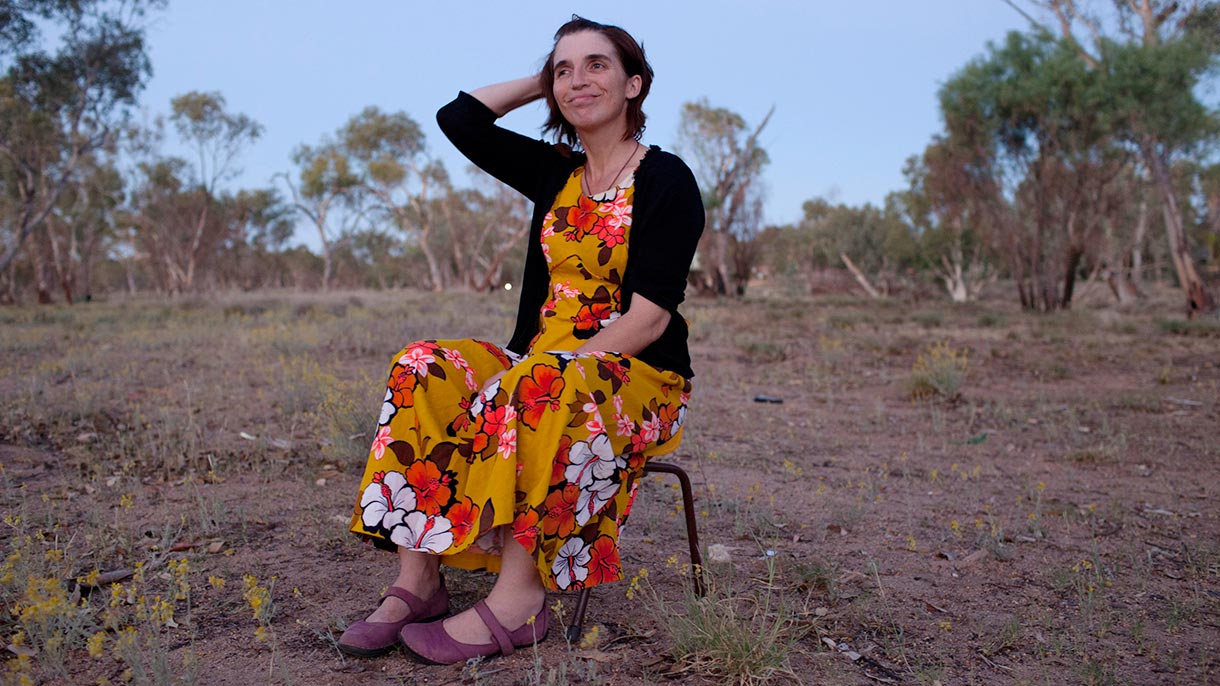 The pictures take on a political meaning
At the end of the 1990s, the aborigines of the Western Desert decided to take things into their own hands to help members of the community affected by kidney disease. The artist cooperatPapunya Tula donated four collaborative paintings, which were sold for around 800,000 € at an art auction in the Art Gallery of New South Wales in Sydney in November 2000. With this money, they founded a charitable organization called Western Desert Nganampa Walytja Palyantjaku Tjutaku Aboriginal Corporation (wdnwpt), which roughly translated means "Making all our families well".
Since then, wdnwpt has been busy improving the situation of patients with kidney disease. Sarah Brown is the good spirit behind wdnwpt's activities. For many years now she has been working in the outback. "I like the country's more remote regions and to work with Aboriginal people to improve the lives of their families is a real honor," she says.
Since wdnwpt was founded, the number of dialysis patients has increased steadily. And the problems are growing, too. "The aborigines have a strong bond with their communities and the place where they live," confirms the truck manager. In the past, the Pintupi led a nomadic life at one with nature. Even today in their villages, they prefer to sleep outdoors, under the stars. So, when they are obliged to be in the city, confined to a small room in a residential home, they also suffer psychologically," as Sarah Brown observes on a daily basis.
Hope on wheels
But now, thanks to the Purple Truck, patients in Alice Springs can visit their communities for a few weeks to participate in family events and religious ceremonies.
The 40-foot truck, painted with motifs from the Papunya Tula artist group, is large enough to accommodate a dialysis machine, a water treatment unit and various filter technologies. A 900-liter water tank for dialysis and a 450-liter water tank for other uses are also integrated, as well as a bathroom and sleeping quarters. A power generator can compensate for bottlenecks in the electricity supply. "The vehicle is equipped to be on the road for several weeks at a time," says Sarah Brown.
A driver and a nurse accompany the truck. "We have a lot of experience operating dialysis machines under extreme conditions," says Deb Lillis, who coordinates the team and is on board herself during the maiden trip to Papunya. But in practice, operating complex machines in the wilderness can be a challenge, as soon becomes evident.
Equal opportunities
Fresenius Medical Care played a key role in the project by providing the technical installations. "In Adelaide, where the truck was equipped, our engineers worked on the concept for a long time," says Margot Hurwitz, ceo of Fresenius Medical Care Australia & New Zealand. After all, the technology has to be extremely robust. Most of the roads in the outback are dirt roads, dusty corrugated tracks that usually only an all-terrain vehicle can manage. Here the truck is subjected to extreme mechanical strain. Add to this the climatic challenges in the desert.
Although aborigines only make up 2% of Australia's total population, they represent 10% of those needing dialysis. "Aborigines are up to 15-30 times more likely to get kidney disease than other population groups," says Margot Hurwitz. This is mainly due to poverty, diabetes and hypertension as well as premature birth, skin infections and harsh environmental conditions. In Papunya hope is growing that the medical and social challenges will now start to improve. Jedda Marshall's return proves that the road to dialysis in Alice Springs is not just one way.