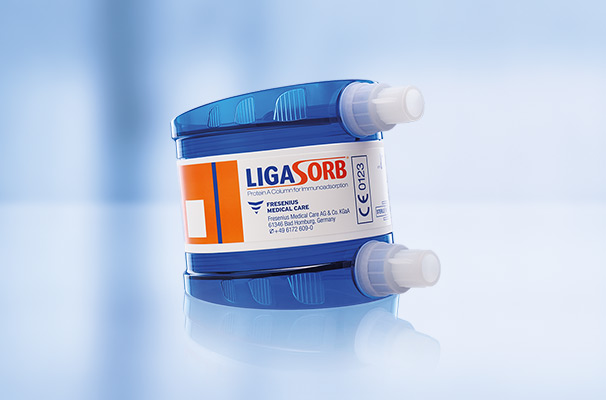 Highly selective single-use IgG adsorber
LIGASORB® is a selective single-use, multiple-pass IgG adsorber for intervening in the acute exacerbation of autoimmune diseases1.

LIGASORB® offers flexible therapy schemes for acute episodes of antibody driven diseases.
Flexible therapy schemes
LIGASORB® offers full flexibility where therapy schemes only require a few treatment sessions, as is the case in acute episodes of the following antibody driven diseases:

Neurology
Myasthenia gravis2
Guillain-Barré syndrome3
Corticoid-resistant multiple sclerosis4
Neuromyelitis optica5

Dermatology
Single use, but regenerable
LIGASORB® is the first Fresenius Medical Care adsorber that can be regenerated during ongoing therapy (multiple-pass) but disposed of after one treatment session (single-use).

In contrast to therapeutic plasma exchange, only a small amount of other essential plasma components (such as albumin) are removed during immunoadsorption.

Efficient IgG reduction
Due to its highly selective protein A ligand and regeneration capabilities, LIGASORB® is able to process up to six litres of plasma and remove up to 20 grams of IgG in a single treatment session.

The total IgG reduction after three treatment sessions is 86% (mean value)7.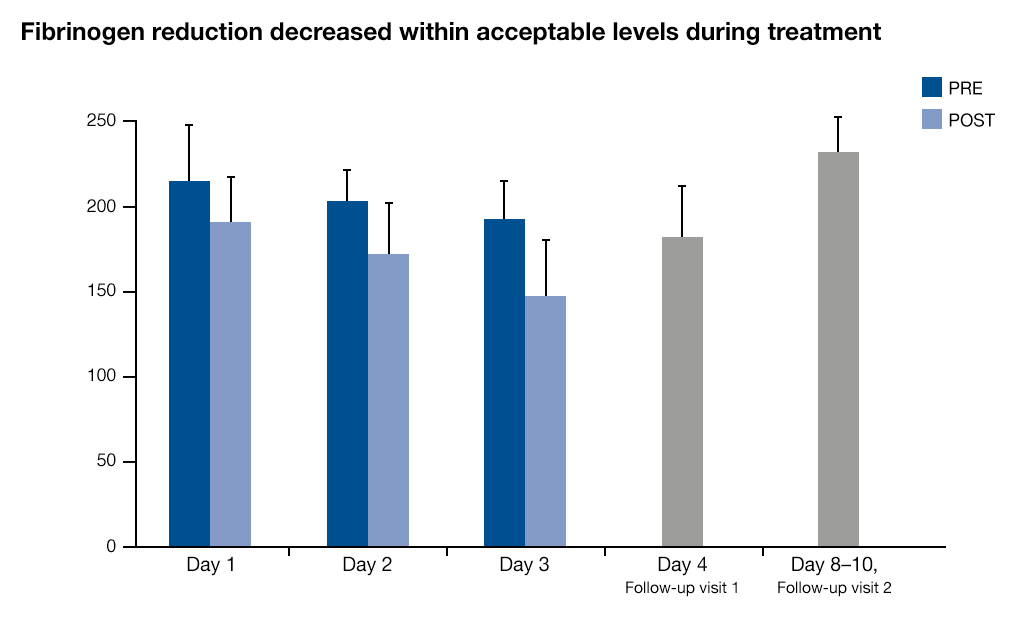 LIGASORB® — Safety features
Daily treatments are possible due to its minimal removal of essential endogenous substances7
Limited fibrinogen reduction (mean value 17%) with fast recovery after approx. one week7
Minimal activation of complement factors and fast recovery of albumin levels8
No need to substitute with albumin or fresh frozen plasma and therefore low risk of side effects (e.g., anaphylactic reactions) usually associated with transfusions of blood products9
Benefits of treatment with LIGASORB®
Flexible and simple immunoadsorption therapy with a single-use adsorber
Strong antibody depletion due to the possibility of regeneration7,8
No exogenous albumin is required
Effective and selective in the removal of immunoglobulins7,8
1 Instructions for use (IFU) LIGASORB®, Art. no. F00001564, 35840318 / 3 - 04/2016.

2 Köhler et al, Journal of Clinical Apheresis Dec. 2011; 26(6): 347–55.

3 Seta et al, Clinical Neurology and Neurosurgery Oct. 2005; 107(6): 491–6.

4 Heigel et al, Atherosclerosis Supplements Jan. 2013; 14(1): 167–73.

5 Collongues et al, Therapeutic Advances in Neurological Disorders Mar. 2011; 4(2).

6 Kasperkiewicz et al, Journal of the American Academy of Dermatology Nov. 2014; 71(5): 1018–20.

7 Internal data (unpublished), LIGASORB Clinical Evaluation report, 2015 Fresenius Medical Care.

8 Internal data (unpublished), Study Report, 27 March 2015, Fresenius Medical Care.

9 Alarabi et al, Artificial Organs Sep. 1993; 7(9): 782–6.