Solutions for cleaning the blood
Consistent 5-liter bag format
Ready to use convenient handling
CRRT solutions 100% bicarbonate or lactate buffered
Key Features
Bicarbonate buffered CRRT solutions
Bicarbonate buffered CRRT solutions
multiBic®
multiPlus
Ci-Ca® Dialysate
Ci-Ca® Dialysate Plus
Bicarbonate at a glance:
Two-chamber bag provides ready-to-use solution useable within seconds
100% bicarbonate buffered
Up to four potassium compositions available
*Integrated gas barrier – enables 48 hours in-use stability

*Depending on local product approval
Phosphate-containing CRRT solutions
Ci-Ca® Dialysate Plus
multiPlus
During an effective CRRT treatment the removal of uremic toxins from patient's blood is desirable, but important nutrients such as glucose and phosphate are also lost. To limit the loss of glucose, modern CRRT solutions contain a near physiological glucose concentration. Following the same principle, the negative results of an excessive phosphate loss can be avoided. multiPlus is an advanced CRRT solution containing a physiological phosphate concentration, that prevents excessive reduction of phosphate during CRRT treatment and thus prevents the formation of hypophosphatemia due to CRRT with its negative implications for the patients.
Possible clinical results of hypophosphatemia:1
Apnea
Limitation of cardiac capacity
Leukocyte failure
Rhabdomyolysis
Hemolysis
Diabetic ketoacidosis
CNS dysfunction
Lactate solutions
The family of multiLac® solutions shows clarity in its composition
Four different potassium concentrations of 0, 2, 3 or 4 mmol/l available*
All other CRRT relevant ions present in a consistent concentration
Physiologic glucose concentration
Ci-Ca® Dialysate
Ci-Ca® Dialysate K2 / K4
*Depending on local product approval
The majority of patients with renal failure suffer from increased serum potassium levels, as the healthy kidney is responsible for about 90% of the potassium excretion. At the start of a CRRT, it is often necessary to normalize the patient's potassium levels. During the course of the treatment it is important to concentrate on the stabilization of the potassium concentration within the physiological range of 3.5 – 4.5 mmol/L.
Ci-Ca® Solutions
For both therapy phases a Ci-Ca® Dialysate with an appropriate potassium concentration is available. Ci-Ca® Dialysate K2 with 2 mmol/L potassium and Ci-Ca® Dialysate K4 with 4 mmol/L potassium. These allow changing of the potassium concentration in the dialysate during the course of the treatment.
Phosphate containing variants
Variants of both potassium concentrations ( 2 and 4 mmol/l) are available containing phosphate: for more, see "Ci-Ca® Dialysate Plus".
Ci-Ca® Dialysate Plus
With the physiological phosphate concentration of 1.25 mmol/L phosphate, Ci-Ca® Dialysate Plus inherently contributes to stabilizing serum phosphate concentration in the physiological range and thus easing the medically essential phosphate management and thereby further adding to the safety of Ci-Ca® therapy.
Ci-Ca® Dialysate Plus — Easing phosphate management
Fully integrated citrate anticoagulation with multiFiltrate Ci-Ca®
Virtually interruption-free CRRT: High efficacy & easy handling
Inherent stabilization of serum phosphate concentration
Sodium Citrate 4% - Citrate solution for Ci-Ca® therapy
The citrate solution impedes coagulation by forming chelate complexes with the ionized calcium of the extracorporeal blood.
4% citrate solution and Ci-Ca® Dialysate compositions are concerted to each other
The citrate bag is equipped with a special connector to match with Ci-Ca® cassette citrate line and to avoid misconnections
multiBic® – Always the right solution
Sophisticated and convenient — The multiBic® 5 liter bag has many advantages
Bicarbonate-based solutions can be used in all patients with acute kidney injury; they are particularly advantageous in the following situations:
In mechanically ventilated patients and in patients with a poor oxygen supply since the lactate metabolism requires oxygen
In lactic acidosis since here the endogenously produced lactate is no longer sufficiently metabolized
In existing metabolic acidosis since the buffer effect of bicarbonate is present immediately
When performing CRRT at high exchange rates, as the use of lactate-based solutions would result in an additional lactate load
When time is of the essence, every convenience helps. For example, the multiBic® double chamber bag with diagonal peel seam for simple handling. The sophisticated gas barrier helps to keep the ready-to-use bicarbonate solution stable and enables the long in-use time of 48 hours.
multiBic® at a glance
| | |
| --- | --- |
| Mixing the two components provide | 100% bicarbonate-buffered hemofiltration solution |
| Always the right solution | 4 different potassium concentrations |
| Increased solution stability, usable for up to 48 hrs | Improved gas barrier |
| Simpler handing | Bag geometry with diagonal peel-seam |
| PVC, latex and DEHP-free, environmentally friendly | Manufactured with 'biofine' material |
| Improved monitoring | Through the clear transparent foil |
| Easier transport | New, comfortable handle |
| Addition of medication possible | Injection port |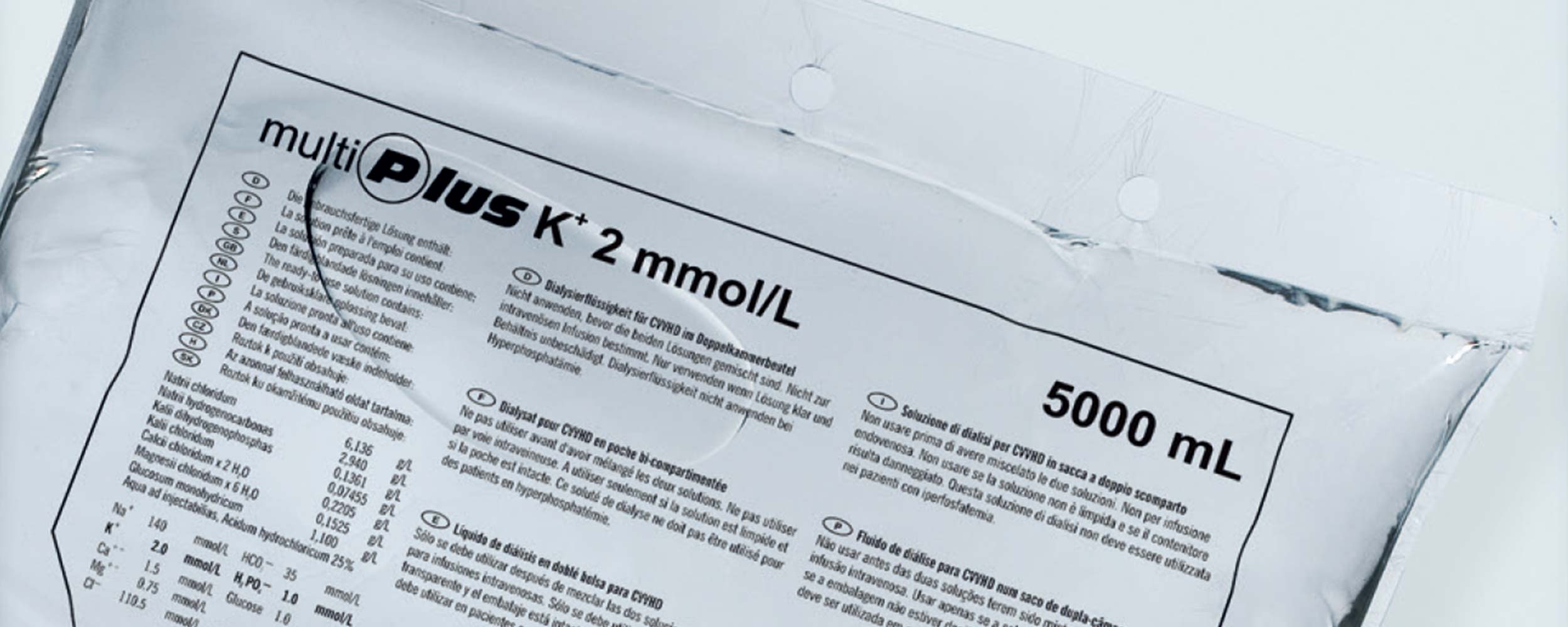 multiPlus – CRRT solution with phosphate
Preventing the formation of Hypophosphatemia
The treatment of renal failure with a phosphate-free dialysis solution results in a considerable reduction of the serum phosphate concentration and necessitates the substitution of phosphate. The development of hypophosphatemia can be prevented by the use of a dialysis solution containing phosphate. A separate adjustment of the phosphate substitution for the efficacy of the renal replacement therapy is then not required. Thereby complications connected to over- or under-dosing of the substituted amount of phosphate are avoided2. Thus, a dialysis solution containing phosphate should be used preferentially to separate phosphate substitution3.
Studies on septic and surgical intensive care patients did show that severe hypophosphatemia is predictive for mortality. Both groups of patients demonstrated a considerably higher mortality in hypophosphatemia patients than in patients with normal serum phosphate values4,5. 28.8% of surgical intensive care patients developed a hypophosphatemia after the surgical procedure4. A higher risk of the development of cardiac arrhythmia could be demonstrated at patients in the early stages of a sepsis with lower serum phosphate levels6. The results suggest to aim for prevention of hypophosphatemia.
The advantages at a glance
Inherent stabilization of serum phosphate concentration
Prevents the formation of hypophosphatemia and results in normalization of the serum phosphate concentration
Phosphate and glucose ensure the adequate provision of energy rich components for metabolic processes
Reliability and cost efficiency – separate phosphate substitution is unnecessary
Simple handling due to the 5 liter dual chamber bag
multiLac® – Clear line lactate buffered hemofiltration solutions
The multiLac® 5 liter bag at a glance
A clear line
thanks to four different potassium concentrations
Fewer bag changes
thanks to a 5 liter bag
PVC, latex and DEHP-free, environmentally friendly
thanks to the use of Biofine® foil
Suitable for all common CRRT devices
thanks to bag eyelets, connectors and bag design
Low risk of contamination, easy to handle
thanks to the blue HF connector
CRRT-appropriate hemofiltration solution
thanks to an optimized composition
1 Amanzadeh J. & Reilly RF Jr., Nature Clinical Practice Nephrology (2006); 2: 136 - 148

2 Lentz R. et al., Annals of Internal Medicine (1978); 89: 941 - 944

3 Gatchalian R. et al., American Journal of Kidney Diseases (2000); 36: 1262 - 1266

4 Zazzo J. et al., Intensive Care Med (1995); 21: 826 - 831

5 Shor R. et al., Annals of Clinical & Laboratory Science (2006); 36: 67 - 72

6 Schwartz A. et al., European Journal of Internal Medicine (2002); 13: 434 - 438