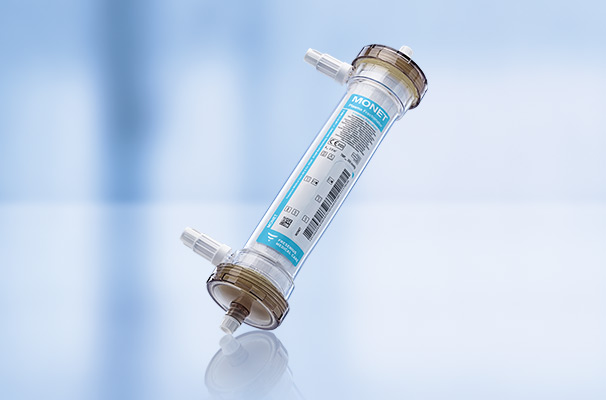 Effective lipoprotein filtration with MONET®
MONET® stands for Membrane Filtration Optimized Novel Extracorporeal Treatment.
Lipoprotein filtration with MONET® is used to reduce high molecular weight molecules such as:
High molcular weight lipoproteins — specifically LDL-C and Lp(a)
High molcular weight plasma proteins that are rheological relevant

The MONET® plasma fractionator contains a Fresenius Polysulfone® membrane, enhanced for use in lipoprotein filtration.

The membrane has the same excellent biocompatibilities as other Fresenius filters and is the result of our continuous product improvement procedures.
MONET® treatment procedure
During lipoprotein filtration, venovenous or AV fistula access can be used. The procedure consists of two steps: In step one, the plasma is separated from whole blood by plasma filtration or centrifugation. In step two, the plasma is passed through a second filter, the MONET® plasma fractionator. MONET® retains high-molecular components, such as:
Low density lipoprotein (LDL)
Very low density lipoprotein (VLDL)
Lp(a)
Triglycerides
Fibrinogen
IgM and IgA

Finally, the purified plasma is combined again with the whole blood and returned to the patient.
Benefits of treatment with MONET®
Effective reduction of LDL-C and Lp(a) levels1
Rheological benefits result from the reduction of macromolecules, fibrinogen and immunoglobulines1, 2
Broad range of possible indications
Substantiated filtration procedure
Anticoagulation can be customized according to the patient's needs
Four different anticoagulation regimes are possible:
ACD-A, continuously throughout the treatment procedure
Heparin, continuously throughout the treatment procedure
ACD-A and Heparin, combined continuously throughout the treatment procedure
Heparin manually during the treatment procedure or as an initial patient bolus prior to treatment
1 Julius U et al.; Therapeutic Apheresis and Dialysis Apr. 2013; 17(2): 179–84.

2 Julius U et al.; Atherosclerosis Supplements May 2015; 18: 95–102